Managing diversity in context – University of Southern California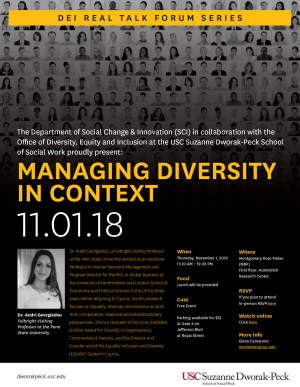 Date:
November 1, 2018
11:30 AM – 12:30 PM
Location:
Montgomery Ross Fisher (MRF)
First floor, Hamovitch Research Center
Sponsor: The Department of Social Change & Innovation (SCI) in collaboration with the Office of Diversity, Equity and Inclusion at the USC Suzanne Dworak-Peck School of Social Work
Details:
Dr. Andri Georgiadou, a Fulbright Visiting Professor at the Penn State University worked as an Associate Professor in Human Resource Management and Program Director for the MSc in Global Business at the University of Hertfordshire and London School of Economics and Political Science in the UK before returning to Cyprus. Andri's research focuses on equality, diversity and inclusion at work from comparative, relational and interdisciplinary perspectives. She is a recipient of the 2014 Graduate Scholar Award for Diversity in Organizations, Communities & Nations, and the Director and Founder and of the Equality Inclusion and Diversity (EQUIDY) Center in Cyprus.